Asalamualaikum
There was a time when I would travel one destination to another without giving it much thought. 
But now alhamdulilah with family and kids there are a host of thoughts that cross my mind before and during travel.
I wanted to share with you a collection of 8 powerful and beautiful supplications and prayers to cover all of your travel needs taught to us by our beloved Prophet Muhammad ﷺ (including my personal favourite!) from the time you leave home until you return. 
They are simply profound.
I hope you will enjoy and benefit from them more than I have.
Please save my email as Inshallah I will soon be sending you a list of steps we take for added protection during our trips and thrilling excursions.
Finally I want to leave you with this Hadith:
Abu Hurairah (May Allah be pleased with him) reported:
The Messenger of Allah ﷺ said, "Three supplications are answered without doubt. The supplication of the oppressed, the supplication of the traveller, and the supplication of the parent for his child."   [At- Tirmidhi and Abu Dawud]
Safe and enriched travels!
Kindly remember us in your prayers!
Hasan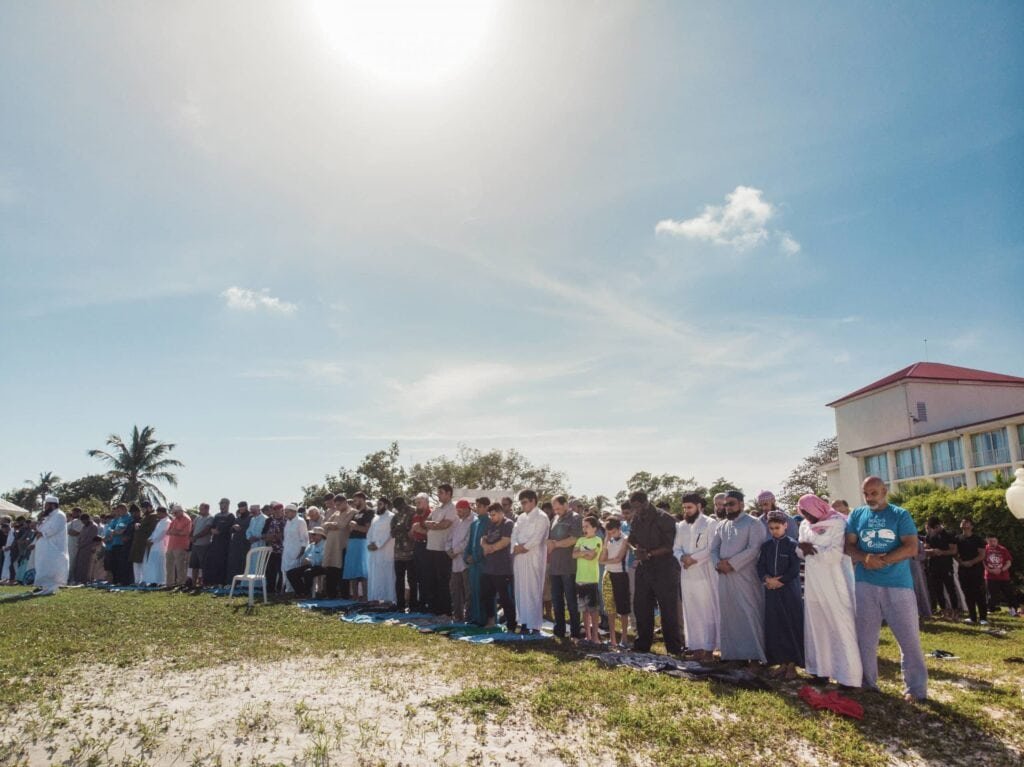 8 ESSENTIAL DUAS FOR TRAVELING
WHEN LEAVING THE HOUSE
بِسْمِ اللهِ ، تَوَكَّلْتُ عَلَى اللهِ وَلَا حَوْلَ وَلَا قُوَّةَ إِلَّا بِاللهِ
"In the name of Allah, I place my trust in Allah and to Allah alone belongs all power and might." (Tirmidhi)
Benefit:  Whoever recites this prayer while leaving the house the angels say (guarantee): "You will be guided and you will be protected"
The above is sufficient but here is a more comprehensive version:
اللَّهُمَّ إني أَعُوذُ بِكَ أَنْ أَضِلَّ أَوْ أُضَلَّ ، أَوْ أَزِلَّ أَوْ أُزَلَّ ، أَوْ أَظْلِمَ أَوْ أُظْلَمَ ، أَوْ أَجْهَلَ أَوْ يُجْهَلَ عَلَيَّ
O Allah, I seek refuge with You lest I should stray or be led astray, or slip or be made to slip, or oppress or be oppressed, or behave foolishly or be made a fool. (Tirmidhi)
WHEN BOARDING YOUR VEHICLE
بِسْمِ اللهِ
"In the name of Allah" (Tirmidhi)
WHEN COMFORTABLY SEATED
 الْحَمْدُ لِلهِ ، سُبْحَانَ الَّذِي سَخَّرَ لَنَا هَذَا وَمَا كُنَّا لَهُ مُقْرِنِينَ ، وَإِنَّا إِلَى رَبِّنَا لَمُنْقَلِبُونَ ،
"All praise is for Allah who is free from all and any imperfections The One Who has placed this (transport) at our service and we ourselves would not have been capable of that, and to our Lord is our ultimate final destination. (Tirmidhi, Abu Dawud)
YOU MAY THEN ALSO RECITE
الْحَمْدُ لِلهِ ، الْحَمْدُ لِلهِ ، الْحَمْدُ لِلهِ ، اللهُ أَكْبَرُ ، اللهُ أَكْبَرُ ، اللهُ أَكْبَرُ ، سُبْحَانَكَ اللَّهُمَّ إِنِّي ظَلَمْتُ نَفْسِي فَاغْفِرْ لِي ، فَإِنَّهُ لَا يَغْفِرُ الذُّنُوبَ إِلَّا أَنْتَ
All praise is for Allah, all praise is for Allah, all praise is for Allah, Allah is the greatest, Allah is the greatest, Allah is the greatest. You are free of all imperfections, O Allah, verily I have wronged my soul, so forgive me, for surely none can forgive sins except You."
Benefit: The Prophet of Allah (may the Peace and Blessing of Allah be upon him): Allah approves of his servant when he says: 'forgive me my sins', and would say: 'he knows that non forgives the sins but Me'.
AND THEN (This is one of my personal favourites, you have to check out the meaning, I have fallen in love with this prayer over the years of travel)
للَّهُمَّ إِنَّا نَسْأَلُكَ فِي سَفَرِنَا هَذَا الْبِرَّ وَالتَّقْوَى ، وَمِنَ الْعَمَلِ مَا تَرْضَى
اللَّهُمَّ هَوِّنْ عَلَيْنَا سَفَرَنَا هَذَا وَاطْوِ عَنَّا بُعْدَهُ ، اللَّهُمَّ أَنْتَ الصَّاحِبُ فِي السَّفَرِ ، وَالْخَلِيفَةُ فِي الأَهْلِ ،
اللَّهُمَّ إِنِّي أَعُوذُ بِكَ مِنْ وَعْثَاءِ السَّفَرِ ، وَكَآبَةِ الْمَنْظَرِ ، وَسُوءِ الْمُنْقَلَبِ فِي الْمَالِ وَالأَهْلِ.
O Allah, we ask You for righteousness and God-consciousness (Taqwa) in this journey of ours, and we ask You (to enable us) for deeds that please You,
O Allah, ease our journey and shorten its distance quickly. O Allah, You are The Companion on this journey and The Successor in our family (left behind)
O Allah, I seek refuge with You from the difficulties of travel and being in a bad predicament, and I take refuge in You from returning to a bad outcome concerning wealth and family. (Tirmidhi)
WHEN ARRIVING AT A CITY OR DESTINATION
أَسْأَلُكَ خَيْرَ هَذِهِ الْقَرْيَةِ وَخَيْرَ أَهْلِهَا وَخَيْرَ مَا فِيهَا ، وَأَعُوذُ بِكَ مِنْ شَرِّهَا وَشَرِّ أَهْلِهَا وَشَرِّ مَا فِيهَا
I ask You for the goodness of this town, the goodness of its inhabitants and for all the goodness found within it and I seek refuge with You from the evil of this town, the evil of its inhabitants and from all the evil found within it. (Tabrani & Hakim)
DUA FOR STOPPING OVER (HOTEL ETC.) ON ROUTE

أَعُوذُ بِكَلِمَاتِ اللهِ التَّامَّاتِ مِنْ شَرِّ مَا خَلَقَ
"I seek refuge in Allah's perfect words from the evil which has been created." (Muslim)
Benefit: Whoever makes this supplication nothing shall harm him/ her until he leaves the place of lodging.

SUPPLICATION WHEN ARRIVING BACK HOME
آيِبُونَ تَائِبُونَ عَابِدُونَ لِرَبِّنَا حَامِدُونَ
We return, we repent, we worship and we praise our Lord. (Muslim)
SUPPLICATION WHEN ENTERING THE HOUSE
بِسْمِ اللهِ وَلَجْنَا، وَ بِسْمِ اللهِ خَرَجْنَا، وَعَلَى رَبِّنَا تَوَكَّلْنَا
In the Name of Allah we enter, in the Name of Allah we leave, and we depend on our Lord (Muslim, Abu Dawud)